Gradescope Overview for Instructors
Gradescope is a grading platform that links to eLearning Canvas to accelerate paper and digital grading workflows for closed and free response questions (including drawings). The software uses optical character recognition (OCR) and artificial intelligence (AI) assistance to help instructors efficiently grade and provide substantive feedback on homework and exams, as well as coding assignments.
Manual grading time is reduced through several mechanisms depending on the assignment type, such as auto-sorting responses into batches of similar answers so specific feedback can be instantly applied to the whole set. Comments are also stored in a bank for re-use in future semesters. Scoring consistency across multiple graders is supported with innovative features for applying rubric criterion changes to all previous uses and sharing feedback comment banks amongst the group. It also provides detailed analytics of marks to help identify current concept weaknesses needing further instruction or for use when determining potential areas of course design changes. Furthermore, it provides an optional process workflow for item-level regrade request management which includes requiring students to submit a justification statement and sending e-mail notifications.
How it works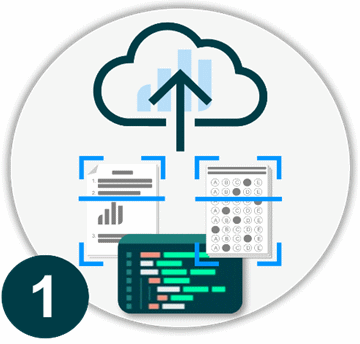 Upload Work
Students or instructor upload
Picture or PDF scan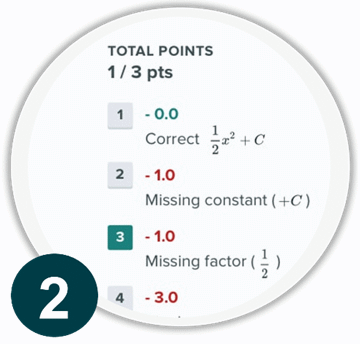 Use Grading Tools
AI assisstance
Comment banks
Dynamic rubrics
Annotation
Multiple graders support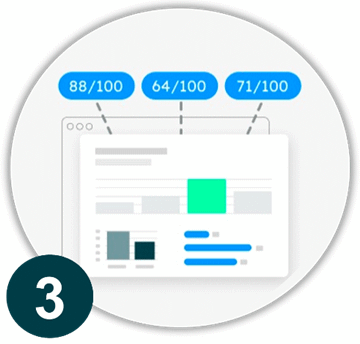 Review Analytics
Track student & question performance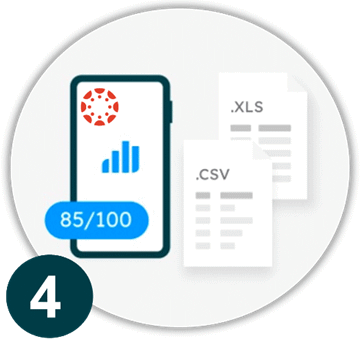 Export Grades
What is Gradescope? (Video, 1:33)
Gradescope Benefits and Features
Gradescope was initially designed by instructors at UC Berkeley to simplify grading logistics for providing feedback to students on handwritten work. Since grading time is a limitation to providing more formative assessment opportunities to students, Gradescope can be used to streamline the grading process as well as ensure more consistency in scoring and feedback. This tool is designed to make assessment of free response questions more feasible for an instructor or grading team.
Gradescope has continued to evolve to support a variety of assignment types. Below we highlight some time-saving features in various grading workflows and how clear feedback to students is facilitated.
Exams - These assessments are Gradescope defined as fixed-length templated assignments and the default setting is for the instructor to collect the papers and upload them. Templated assignments means you upload a blank exam PDF and define a region for each question so AI can later batch answers for streamlined grading.
Bubble Sheets - Large classes with several hundred students often rely on multiple-choice question exams answered on a Scantron bubble sheet and processed, for a fee, by an with a special machine. Gradescope offers bubble sheet templates that can be scanned by students with their smartphone or in bulk by instructors/staff using a basic, multi-sheet office scanner.
Homework - These assessments are Gradescope defined as variable-length assignments and the default setting is for each student to upload their own work and define their answer regions.
Programming Assignments - Code files can be submitted by students and Gradescope offers Autograder set up for quick test case visibility, a pseudonym leaderboard, in-line manual commenting, as well as a similarity checker.
Online Assignments (Beta) - Similar to an eLearning Canvas Quiz, this assessment type allows for direct digital answer submissions to various question types with some auto-graded capabilities.
General features -

Transforms simple point deductions and partial credit into dynamic rubric criteria facilitating clear, specific feedback (comments and/or annotations).
Batches like-answers (automatic or manual) for quicker marking.
Auto-adjusts previous scores when scoring decision changes are made mid-way.
Multiple graders can easily divide work so that a single grader manages one question to increase grading fairness. If multiple graders are grading the same questions (such as labor divisions by section), rubric items and comments are shared amongst grading teams to facilitate consistent scoring and improved feedback quality.
Anonymous student mode during grading decreases potential bias.
Analytics are provided for quick review of student learning outcomes and question performance.
Grades are sent to eLearning Canvas with a single click. Students then have access to the grade and feedback.
Manages item-level regrade requests, requiring students to submit a justification statement and sending an e-mail notification.
Interested in Joining?
The UFIT-funded limited pilot study of Gradescope begins Fall 2022 in partnership with the Department of Computer & Information Science & Engineering as well as instructors of a few additional courses in other colleges (Warrington College of Business and the College of Agricultural and Life Sciences). If initial feedback is positive, we anticipate scaling up our pilot capacity in future semesters and will be in contact with interested instructors as we grow. If you are interested in joining the pilot program, please complete the interest form so we can determine if your course(s) meets eligibility parameters and provide further Gradescope integration details.